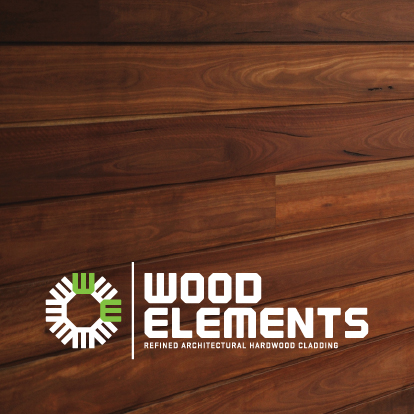 WOOD ELEMENTS is a complete solution for any wall, offering not just the cladding but all the detailed trims required to finish off the project and ensure a watertight result. All the timber species used for the external use are rated Durability Class 1 under Australian Standard AS 5604 -2005, which give these species the highest possible life expectancy ranking – greater than 40 years.
WOOD ELEMENTS profiles
WOOD ELEMENTS profiles collective features include; a straight-line edging process to ensure the cladding is machined to a fine tolerance and is extremely straight; relief grooves which are designed to take the stress out of the cladding, reducing the effect of warping and cupping; a specially designed ridge locater connects with the overlap line providing an effortless straight-line finish, simultaneously controlling the expansion allowance for any timber movement.
Coulee
Traditional shadowline profile. The contemporary shadowline can be installed in either vertically or horizontally. This open profile enables water to drain away, ensuring a barrier to the wall.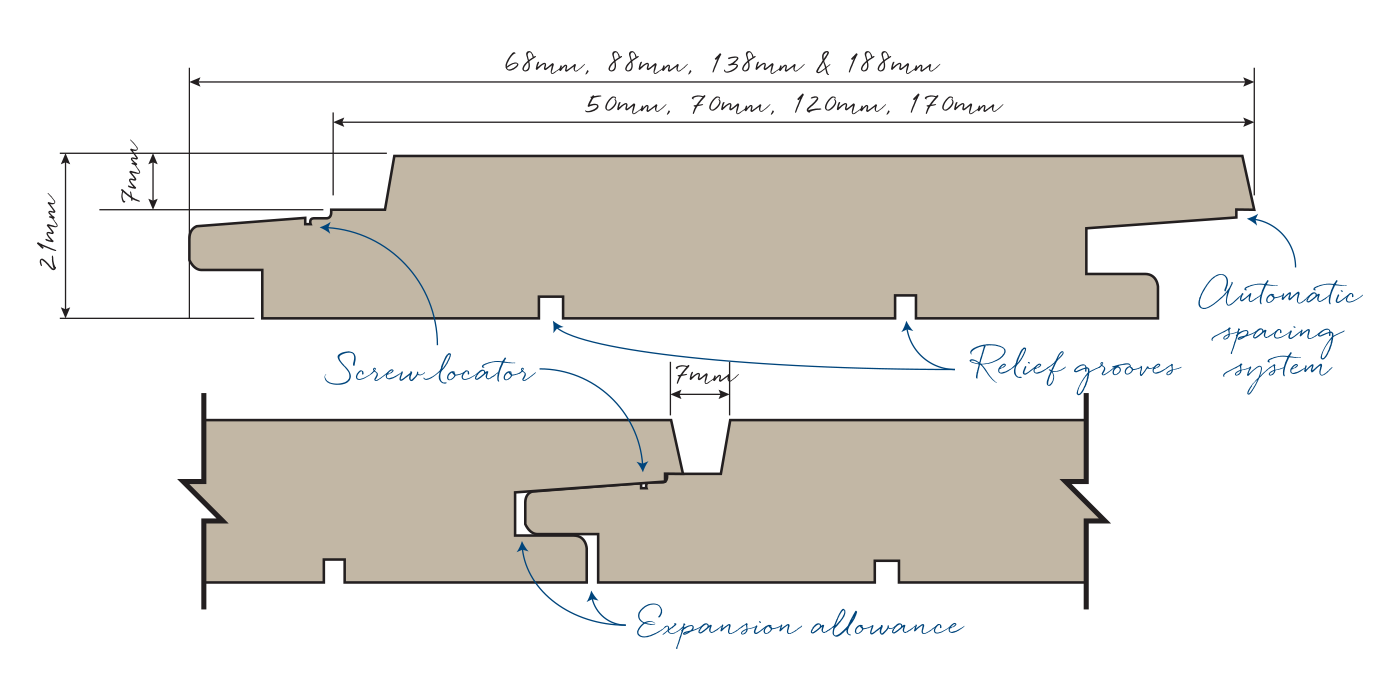 Corner Detail
WOOD ELEMENTS trims provide a streamline finish and play an integral part in ensuring a water tight finish. All aluminium trims are factory fitted with waterproof gaskets, designed to decrease the on-site sealing process, and delivery of loose materials. Satisfying different design aspects WOOD ELEMENTS trims are available in both traditional matching timber and modern anodised aluminium. A chromate treated aluminium option is also available for powder coating.
Size & Species
| Sizes | 68 x 21mm | 88 x 21mm | 138 x 21mm | 188 x 21mm |
| --- | --- | --- | --- | --- |
| Cover | 50mm | 70mm | 120mm | 170mm |

Blackbutt
Blackbutt is a species that grows in abundance in the coastal forests in New South Wales and Southern Queensland. The common name is derived from the distinctive black, charcoal look that is only on the base of the trunk. The timber is renowned for both its strength and versatility of application. Blackbutt is a straight grained timber, with a warm nutty hue which will compliment a range of designs where a lighter neutral palette is required.

Spotted Gum
Spotted gum is a large native hardwood that is grown in a variety of forest types along the NSW coastal strip into Queensland. The word "spotted" refers to large spot like features that form on the tree as it sheds its bark in strips.Spotted Gum is a rich individual timber, desired by architects and designers the world over, particularly for its striking backsawn grain structure, attractive fiddleback and vibrant colour palette.

Ironbark
Ironbark offers a large variety of colour from dark chocolate to nutty honey with some dark reddish brown. Ironbark has an interesting tight cathedral grain pattern. Recognised as one of the hardest and most durable hardwoods available in the world, Ironbark is an extremely hardwearing timber that makes it perfect for external or internal applications.

American Oak
American White Oak is a popular species due to its interesting and pronounced grain pattern. American White Oak is also a species that takes stain extremely well, meaning that a multitude of colours can be achieved with little fuss. American White Oak is grown predominantly on the East Coast of the United States. The name "White" Oak refers to the bark of the tree which is a whitish, ash grey colour. All the White Oak raw material that Hurfords source is from reputable sawmills that practice sustainable forestry.