Colt Compressors
post - 17 November, 2016

Timber skyscrapers - Part 1
post - 17 November, 2016
"River Beech Tower, 300 unit all timber construction high rise"
As part of a master plan along the Chicago River, USA, the River Beech Tower is a residential high-rise which, if built, would be taller than any existing timber building. The Perkins+Will's proposal is still in very early development but it would include 300 duplex units and communal shared areas such as indoor parks. The team's vision is to create a "social and sustainable adaption to high rise development."
Reaching to 80-stories, it would tower over other timber skyscrapers like other proposals such C.F. Moller and Dinsell Johnsson's 34 story building in Stockholm and our very own 10 story Forte apartment building in Melbourne. To reach new heights, the Perkins + Wills team have used a different approach to the previously built structures by using a diagrid system. Perkins+Will explain, "The design is made possible by an innovative structural system engineered to take the full advantage of the timber's natural strength through an exterior diagrid system." The building's vertical and lateral loads are resisted by connecting the outer diagrids with the internal cross bracing that skirts the central atrium, allowing for efficient load distribution across all timber elements.
It is still unknown if the River Beech Tower will be realised but it will definitely be one for the record books. River Beech Tower is a collaboration between Perkins+Will, Thornton Tomasetti and the University of Cambridge.
Next week - Part 2 - Australia's Very Own Timber Multistorey Buildings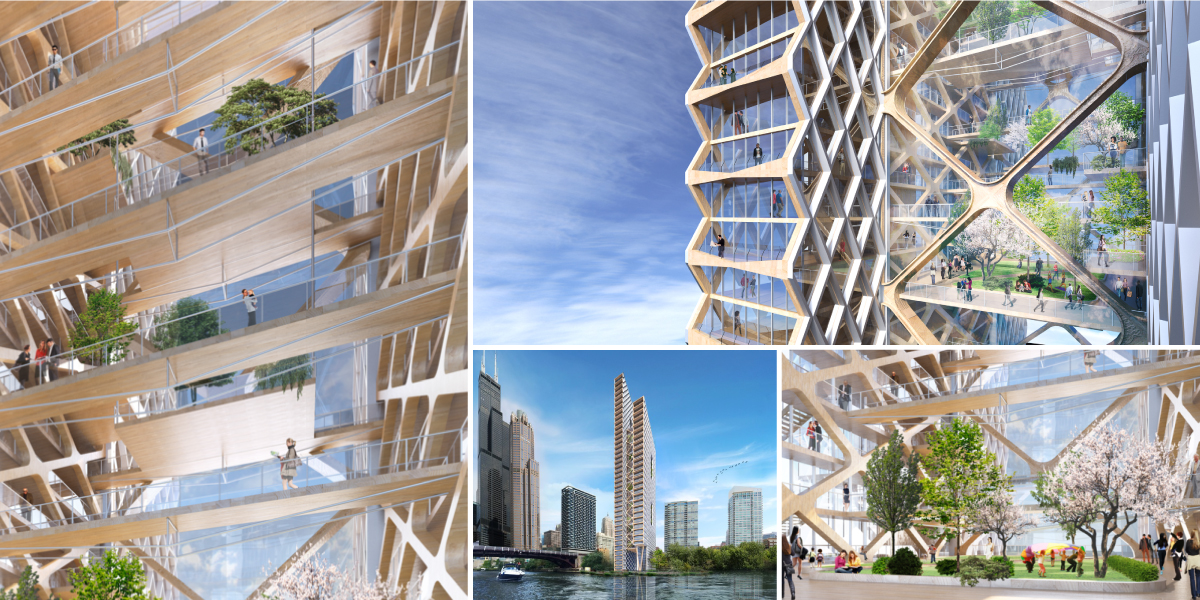 QBCC Tie Down requirement
post - 17 November, 2016
The QBCC has recently detected issues with the treaded rod
Which provides tie-down to roof and wall frames particularly in high wind and cyclonic wind speed regions. AS1684 Timber Framing Code includes a requirement that all metal straps, framing anchors and similar connections have a minimum corrosion protection of 275 grams weight of zinc coating per square metre of surface area
Bretts Trade is aware of QBCC requirements for cyclone tie down rods as stipulated in AS1684. We have a full range of HDG cyclone rods available, that completely comply with the QBCC standards. We also stock Bremick electroplated zinc rods with organic coating. Bremick have stated that their electroplated zinc rods with organic coating have been tested in an appropriate facility. Bremick believe their products outperform the corrosion protection performance of the HDG rod, which does comply with the relevant standards. Bremick have sought approval from QBCC about the compliance of their product.

Online Ordering and Pricing at Bretts
post - 17 November, 2016
Quotes back in 1 Hour &nbsp Deliveries to site, same day Deliveries for Free!
Sound to goo to be true? Read on to be pleasantly surprised and find out how to get this level of service using your trade account at Bretts!
Did you know we have online ordering and pricing for our Trade Account customers? Log onto Online Pricing and check out how easy it is to price a job or place an order online! Pricing a job is made easier and faster with us, by generating a list online. Send it to our Trade Estimating Team and get fixed job pricing back in an hour.

Order all of your materials online and select either delivery or collection in store. Your order will be prioritised and will be delivered on site or be ready for collection within 2 hours (subject to product availability). If your fasteners and consumable items order is over $200 your Ute delivery will be FREE! Easier, Faster and more efficient, you'll be able to spend less down-time at the site and no need to rush to get supplies.

Trade Brekkie
post - 03 November, 2016
"Featuring HardieDeck".
This week at the trade brekkie James Hardie will be talking about the features and benefits of thier HardieDeck system, specifically talking about the new timber like stain finish that can be achieved with HardieDeck.

New Product
post - 03 November, 2016
"Reefe pumps".
Bretts Windsor now stocks a comprehensive range of pumps to suit many applications
Pump types:
Water conservation - seamless use of rain and town water, fully automatic system.
Maximum Energy Saving - provides constant even pressure through the home, variable speed motor and ultra quiet.
Instant Hot Water - circulates hot water to avoid waiting for it too arrive at the tap, helps to save water by not running the tap until hot water received, 3 speed options.
Waste Water Removal - storm water and flood water removal, site drainage, basement and swimming pool drainage.
Sump Pumps - Grey water pits, irrigation from treatment systems, dirty water drainage.
Safe Drinking - for the supply of tank water to the home with constant pressure.

Mid-rise timber construction
post - 14 October, 2016
"An exciting development for the construction industry".
There is a growth of timber building pushing the height limits. Canada has three tall timber buildings in the pipeline, a 13-storey Quebec City project, using cross-laminated timber and glulam, a 12-storey building in Ottawa and a project in Vancouver targeting 18 storeys. Not to be outdone, the highest timber building planned so far is a 23-storey office building in Sweden.
To accelerate the uptake of timber framing and massive timber building systems in mid-rise projects in accordance with the recent changes to the National Construction Code, the new WoodSolutions team of design, engineering, construction and development specialists has started a pilot program in Melbourne, complemented by a smaller-scale activity in Brisbane.
Earlier this year, a series of workshops, facilitated by Forest and Wood Products Australia (FWPA) and attended by senior industry representatives, saw Jennifer Cover, Executive Director of the United States' WoodWorks program (www.woodworks.org) outline the structure and achievements of the US wood field force advisors. Based on their considerable success, a similar model was developed for trial in the Australian market.
Extensive consultation with industry and potential sponsors outlined the scope and operations of the new Technical Field Force Pilot Project, with funds in excess of AU$1.5 million over three years being committed from a large number of industry sponsors including key gold sponsors who are AKD, Australian Sustainable Hardwoods, Bowens, Hyne Timber, Meyer Timber, Parkside Timber, Tillings, Timberlink, Timber Queensland, XLAM and Wesbeam with matching contributions from the Australian Government via FWPA.
"This is an exciting development for our industry, said Ric Sinclair, FWPA's managing director, "first, we undertook the research, secured the code change to allow market access and now we have a dedicated program to encourage uptake of the research by the building community. Our high calibre professional team is focussed on market extension, and we know from research that it is important to get involved in the early stages of projects to ensure adoption".
With extensive experience in property development, construction, timber engineering and architecture, the WoodSolutions team of Program Development Managers are ideally placed to liaise with development, design and construction professionals, providing generic information and advice on making the most of the cost, time and other advantages of timber building systems.
Melbourne-based Gerry Neylan, a construction, planning and property specialist and WoodSolutions team member, said this was a great opportunity to engage with the marketplace about constructing new projects more quickly, quietly and safely – while also addressing issues such as social responsibility and sustainability. Sentiments that were echoed by Brisbane-based Stefan Gerber, a timber engineer, who added that after only a few weeks he is already finding many designers and engineers are highly interested in discovering more about new opportunities with timber.
"Typically, the outputs of research, even following a building code change of this order, we would expect changes in design and building practices and material specifications to take many years to flow through the market," explained Mr Sinclair, "this new program will substantially reduce the uptake time and generate greater sales volumes for timber products. The challenge for our industry is to ensure that the whole supply chain is knowledgeable, prepared and able to meet the increased demand."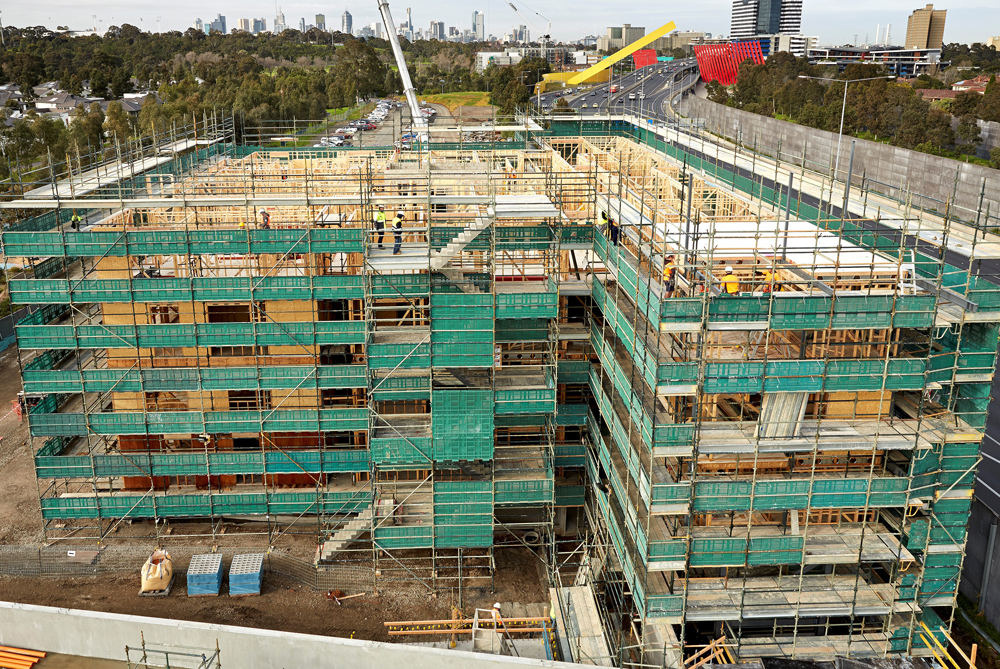 Pryda timber connectors
post - 13 October, 2016
This weeks trade Brekkie at Windsor.

Regulatory requirement notice
post - 6 October, 2016
In the state of Queensland, Pryda DOES NOT support use of power driven nails in triple grips and multi grips any further.

Imex lasers
post - 6 October, 2016
New laser level released

Wood First
post - 30 September, 2016
Queensland government urged to consider wood first policy.

Colt Air Compressors
post - 30 September, 2016
Colt compressors now in stock.

Trade & building material EXPO 2016
post - 7 September, 2016
Bretts trade expo on agian this Friday 9th from 2pm

AnchorMark Pty Ltd
post - 22 August, 2016
Decking Screw - In action at the trade brekkie this Friday

Fletcher Insulation
post - 04 August, 2016
PERMASTOP® Building Blanket

Bremick fasteners
post - 28 July, 2016
Finally a solution ! the new Bremick deck screw is available

Heritage church project
post - 27 July, 2016
Amazing project built by Glen Williams Constructions using Bretts Aluminium Windows and Doors.

James Hardie Win a Trailer Promotion
post - 25 July, 2016
Winner drawn Friday 22nd at 8am

CAT workwear breakfast
post - 14 July, 2016
20% off CAT workwear! 1 day only.

Store wide sale
post - 15 June, 2016
20% off everything! 2 days only.

Save up to $800
post - 07 June, 2016
On Elan and Classic models

Clearance Sale
post - 05 May, 2016
Now on until sold out

Makita Floor Stock Sale
post - 14 March, 2016
Now on until end of April

Caboolture store stocks Cypress
post - 14 March, 2016
Looking for Cypress Supplies? look no further Bretts Caboolture will help with all your Cypress requirements

New Trade store OPENS
post - 03 February, 2016
Convenient Northside trade store at Caboolture

Next Tradie Brekkie on this Friday 12th February
post 03 Feb, 2016
From 6.30am opposite our trade service counter. Happy hour. the coffees are free between 6.30am and 8.30am you can also enjoy a sumptuous bacon and egg brekkie role and catch up with the attending trade supplier.

Coffee at Bretts
post - 10th November 2015
Coffee hut now open at Bretts Windsor

New Trade store OPENS
post - 15th October 2015
Convenient Southside trade store at Rocklea

Trade Expo 2015
post - 12th September 2015
Over 200 guests attended and networked with over 35 leading insustry suppliers and manufacturers

New floor cassette system
post - 5th September 2015
A revelation and a revolution. Floor Cassettes save countless hours on-site, fast and very quick to install resulting in cost savings.

Villeroy and Boch display now OPEN
post - 1st September 2015
Brisbane's newest Villeroy & Boch display has just opened see all the newest and lastest on offer from Germany and the World's leading sanitary manufacturer